February 4, 2019
Sumitomo, SQM, Tungco and ArcelorMittal discuss the future of batteries, sustainable sourcing and trading politics at Argus Metals Week 2019
Global energy and commodities price-reporting agency Argus will host Argus Metals Week 2019 in London, UK, on 26 February -1 March.
Drawing on the success of an established portfolio of metal events, the 11th annual Argus Metals Week conference will provide a multidisciplinary perspective on the metals industry across three focused agendas — Battery materials, SnWTa, and NiCoMo.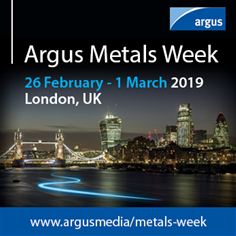 Argus Metals Week 2019
It will bring together mining companies, producers, manufacturers, traders and market specialists from Australia, Austria, Belgium, Canada, Chile, the Czech Republic, Denmark, Estonia, Finland, France, Germany, India, Ireland, Israel, Italy, Japan, Liberia, Lithuania, Luxembourg, the Netherlands, Russia, Singapore, South Africa, Spain, Switzerland, Tanzania, the UAE, UK, US and Vietnam.
"We're seeing interesting times in the non-ferrous metal markets. The push towards electrification and green energy is continuing to feed through to affect the supply side of important battery raw materials such as lithium, cobalt, nickel and graphite," says Mark Seddon, Argus Senior Manager, Consulting Services – Metals. "While prices have dipped for many of these metals over the past six months, long term fundamentals remain strong. It will be interesting to hear from experts on whether we can expect the price environment to improve."
Seddon also highlighted geopolitical trading sanctions as another key factor affecting the metals supply and demand landscape.
"Many other markets are facing an element of political instability, notably those produced in Africa, such as cobalt, tungsten and tantalum. A geopolitical dimension also impacted the market for molybdenum last year in the form of potential trade tariffs between the US and China. Can we expect any further political uncertainty in the minor metal markets this year?"
Argus Metals Week will see leading figures from across the industry gather to address these questions and share their insights on how the market will weather this period of uncertainty.
Agenda highlights include a spotlight on the batteries market, as Sumitomo provides key intelligence on EV batteries and future demand, as well as updates in areas such as recycling, trading politics and sustainable sourcing, led by representatives from SQM, Global Tungsten & Powders, Tungco, ArcelorMittal, Outokumpu and Metals Hub.
Confirmed attendees include:
A&M Minerals, Advaita Trade DMCC, Advanced Material Japan, Aeon Metals, Albemarle, Alfred H Knight, Almonty Industries, Altichem, AMG Superalloys, Ampere Alloys, Aperam Sourcing, ArcelorMittal, AVAS Trading, AVX, Axens, BASF, Bluestone Metals & Chemicals, Borchers Americas, Brazilian Nickel, BRGM, Ceteris Paribus, Clariant, Climax Molybdenum, Cronimet, DCX Chrome – Groupe Delachaux, Elg Utica Alloys, EPM, Erasteel – VALDI, Erdster Resources, Ethore, Euro Manganese, Euromet, Exotech, Federal Institute for Geosciences and Natural Resources, Freeport Cobalt Europe, GE Aviation, Glencore, Global Tungsten & Powders, Greystone Alloys, Grondmet, HC Starck Tungsten, Haldor Topsoe, Hempel Intermétaux, HiTech Materials, Hobré Instruments, Honda Motor, HSS Recycling, Hudson Metal & Alloy, ICoNiChem, Imerys Graphite and Carbon, Infinity Lithium, International Tin Association, FC Stone, Jean Goldschmidt International, JGI-Hydrometal, JOGMEC, KEMET Electronics, London Chemicals & Resources, Masan Resources, Metal-Tech, Metals Hub, Metraco, Mexichem, Mitsui, Noble Resources, Nordmet Invest OÜ, Northcliff Resources, Novitera, Nui Phao Mining, Outokumpu, Pilbara Minerals, Polymet, Powmet, Pratt & Whitney, RECHARGE aisbl, Renault, RJH Trading, Roskill Information Services, Saft Batteries, Saloro, SCB & Associates, SCB Brokers, Sidley Austin, Solvay, Specialty Metals Resources, Stadler Metalle, Stratton Metal Resources, Strongbow Exploration, Tantalum-Niobium International Study Center, Global Tungsten & Powders, TMT Metals, Todini and Co, Traxys, Tungco, Unichrome, W Resource, Weartech International, Wogen and Wolfram Bergbau und Huetten.
Argus Metals Week will take place on 26 February -1 March at the London Marriott Hotel Regents Park, London.
Further information, including a full speaker line-up and conference agenda, is available at http://www.argusmedia.com/conferences-events-listing/metals-week?utm_source=pressrelease&utm_medium=prrealwire&utm_campaign=Lon-Conf-AMW2019
For enquires, contact Teri Arri at teri.arri@argusmedia.com
—end—
About Argus Media
Argus is an independent media organisation with almost 950 staff. It is headquartered in London and has 21 offices in the world's principal commodity trading and production centres. Argus produces price assessments and analysis of international energy and other commodity markets, and offers bespoke consulting services and industry-leading conferences.
Companies in 140 countries around the world use Argus data to index physical trade and as benchmarks in financial derivative markets as well as for analysis and planning purposes.
Argus was founded in 1970 and is a privately held UK-registered company. It is owned by employee shareholders and global growth equity firm General Atlantic.
ARGUS, the ARGUS logo, ARGUS MEDIA, ARGUS DIRECT, ARGUS OPEN MARKETS, AOM, FMB, DEWITT, JIM JORDAN & ASSOCIATES, JJ&A, FUNDALYTICS, METAL-PAGES, METALPRICES.COM, Argus publication titles and Argus index names are trademarks of Argus Media Limited.