January 9, 2019
Hafod's Self-Service Customer App Supports A New Customer Charter And Drives Operational Efficiency Gains
Following the successful launch of its new self-service customer app, Hafod Housing has achieved significant operational efficiencies and improved two-way customer communication with a new Customer Charter. The app was supplied by the UK's leading housing technology company Aareon UK (www.aareon.co.uk).
Hafod Moves to Self-Service
With a stock of over 4,500 properties spread across South East Wales from Newport and Cardiff to Rhondda Cynon Taf, Bridgend and Merthyr Tydfil, maintaining effective systems is a priority for Hafod. An important element of this was the recent introduction of the self–service customer app. Hafod felt this would make things easier for them to deliver great customer care, providing customers with free 24/7 access to services while boosting levels of two-way customer communication.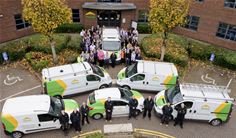 Hafod
Aareon Fits The Bill
Having reviewed the possible systems available on the market, it was decided to choose Aareon's widely acclaimed Self-Service app. Hafod, which uses the QL housing management solution, already had a strong relationship with Aareon, it's developer. This was felt to have advantages. As Chris Davies Performance Manager at Hafod says, "We had built a highly successful relationship with Aareon, for their QL system, over some years. By staying with them for the self-service solution, it removed the potential integration problems of introducing a third party provider. As Aareon's solution offers what we need, we made the decision to go with them."
The Functions Available
Initially, Hafod's self-service customer app provided customers with access to:
Repairs reporting & repairs history
Contact details & update forms
Rent payment / Income management (Including Direct Debits)
Feedback Systems – Make a complaint / Pay a compliment
Tenant engagement opportunities
Customer Charter
The launch was a huge success. At the outset, over a quarter of Hafod's customer base registered for access to the app. Of particular note was the large number of people who wanted to get involved in helping the organisation to fine tune its ongoing decisions and services.
As Chris Davies says, "As a landlord, we don't assume that 'we know best' and we don't feel that we should just make all the decisions without listening to the opinions of our customers. These volunteers will give us a whole new level of insight which will help us enhance what we do even further."
The app enables Hafod's customers to get involved through a method that had not previously been an option. This increased engagement has helped Hafod gather wider customer views and helped them to shape and publish their new Customer Charter – committing to two-way communication with their customer base on an on-going basis.
Significant Savings Too
Even more encouraging are the savings for the rapid repair and maintenance operation, where app customers are encouraged to email photographs of the work required. In over 800 customer repair engagements submitted with images, Hafod did not need to send a surveyor on as many occasions as they would have done previously. Rather, they could just order the relevant part required and book the appointment. The response is therefore both more immediate and saves significant amounts in terms of cost.
As one customer commented: "The new app is genius. It's so helpful, if there are any issues the resolution is a few taps away."
Chris adds, "Customers really approve of the new system – after all why wait in a queue on the phone to report a repair when you can do it with a 'click or two' from the comfort of your own home using your smartphone or tablet? This makes things a great deal easier for us too as it reduces the number of calls we need to handle."
The Future Includes Care & Support
In light of the initial success Hafod is now adding two additional functions:
Anti-social behaviour reporting
Moving home – giving notice – Ongoing contact details
This staged approach allows Hafod to repeat their promotion in phases to encourage additional registrations.
Beyond this, the future holds even greater promise, as Hafod hopes to extend a self-service system to support more than 11,000 care & support customers.
Commenting on Hafod's decision, Geraint Griffiths, Managing Director of Aareon UK added, "Hafod's creative use of self-service technology is a testament to the huge respect they have for their customers. By creatively using the system to identify volunteers willing to input on decision and direction, they have gained a whole new level of customer insight and the results will no doubt help to enhance customer care even further. It is clear that their repair operation is now more efficient and more customer centric too. All in all, this is a tremendous success story and we look forward to working closely with them as the system evolves to include their care operation."
Ends
About Aareon (www.aareon.com)
Aareon is the leading European Software Company providing IT solutions to the Social Housing Sector. With many years of industry specific knowledge, our position as a profitable, growing and innovative organisation enables us to set the standard for business processes in the housing sector both today and into the future.
The Aareon Product Suite provides housing providers with an enterprise-wide solution.
Aareon QL Housing, Aareon QL Financials, Aareon QL CRM, Aareon QL Asset Management, Aareon QL Personnel & Payroll, Aareon 1st Touch Mobile, Aareon 360 Tenant Portal, Aareon QL Reporting Service, Aareon QL Task Centre Alerts & EDRM.
For further details, please contact:
Business Development Team Aareon UK
02376 323723
uk.bids@aareon.com
@AareonUKLtd
or
Leigh Richards
The Right Image PR & Marketing Group
07758 372527
leigh.richards@therightimage.co.uk
www.therightimage.co.uk