November 22, 2018
Torus and Aareon Collaborate on Housing Management Solution
Press Release
---
Following an exhaustive review of the solutions on offer, Torus Group has selected the QL system from Aareon (www.aareon.co.uk) as the single, integrated system to underpin their business.
Formed in April 2015 when Helena Partnerships and Golden Gates Housing Trust joined forces, North West based housing and regeneration group Torus now owns and manages more than 22,000 homes.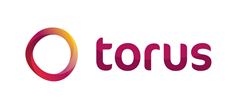 Torus logo
The decision to select Aareon UK systems led to a complex project to migrate the businesses from multiple systems into one integrated hub. Once chosen as preferred supplier, Aareon and Torus agreed to work in partnership, along with some existing Aareon customers, to further develop the existing module. This ensured that the solution gave Torus not only the functionality previously associated with the best of breed systems but also provided them with the benefits of a truly integrated solution.
The result of the collaboration incorporated enhancements to the asset management functionality. This has significantly developed the Aareon QL product and introduced a viable, fully integrated 'single source of the truth' system to the marketplace. Commenting on the collaborative workshop, Gary Howard, Torus Asset Data Intelligence Manager said: "The collaborative workshop hosted by Aareon has played a key part in the development of the Asset Management Solution. Adopting this approach going forward will ensure that the product continues to be developed for the benefit of all users." In January 2017, reducing their solutions across the group from 27 down to 7, Torus went live.
Implementing Aareon QL Asset Management module to replace the two existing systems enabled Torus to realise annual maintenance cost savings of 60%.
Ends
About Aareon (www.aareon.com)
Aareon is the leading European Software Company providing IT solutions to the Social Housing Sector. With many years of industry specific knowledge, our position as a profitable, growing and innovative organisation enables us to set the standard for business processes in the housing sector both today and into the future.
The Aareon Product Suite provides housing providers with an enterprise-wide solution.
Aareon QL Housing, Aareon QL Financials, Aareon QL CRM, Aareon QL Asset Management, Aareon QL Personnel & Payroll, Aareon 1st Touch Mobile, Aareon 360, Aareon QL Reporting Service, Aareon QL Task Centre Alerts & EDRM.
Release contacts:
Emma Page
Aareon UK
02476 323723
Emma.Page@Aareon.com
www.aareon.co.uk
@AareonUKLtd
or
Leigh Richards
The Right Image PR & Marketing Group
07758 372527
leigh.richards@therightimage.co.uk
www.therightimage.co.uk