November 22, 2018
Rezatec to provide new water leak risk analysis tool for Utilities Kingston, Canada
Harwell, Oxfordshire, UK, 22nd November, 2018 – Rezatec, a provider of geospatial data analytics, has announced it will work with Utilities Kingston – a multi-utility company based in Kingston, Ontario – to optimize the company's leak detection activities across a section of the municipal water distribution system.
Water pipeline leakage presents an opportunity for utility companies to significantly improve operating efficiency. The pilot project will see Rezatec provide Utilities Kingston with Artificial Intelligence and Geospatial Analytics. These insights will then allow the utility company to verify that the deployment of acoustic loggers and other ground resources, and repair and maintenance schedules could be significantly optimized by using this technology across the entire municipal system.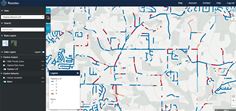 Geospatial AI for Network Operators
The unique combination of Artificial Intelligence and satellite data, when combined with historic leak event data, provides a robust risk model to identify parts of the network at higher risk of failure. By focusing traditional leak detection activities on these high-risk areas, Rezatec's leakage detection tool can help water companies reduce the time and cost of detecting leaks by more than 60 per cent.
"Utilities Kingston is dedicated to the responsible management of community infrastructure. We're excited to pilot leading-edge tools to reduce system water loss, which have the potential to improve the water-efficiency of the system we operate," says Jim Keech, president and CEO of Utilities Kingston.
"Our goal is to help our clients to make more informed critical asset management decisions to reduce leaks, improve margins, gain competitive advantage and optimize asset management for their customers," says Phillip Briscoe, Chief Operating Officer of Rezatec. "We are very pleased to add Utilities Kingston to our growing list of international water clients spanning Europe, United States, Australia, Philippines and now Canada."
With the benefits of Artificial Intelligence and satellite data, Rezatec's goal is to reduce pipeline leakage by detecting the risk of leaks before they happen and as a result stop them from occurring. Work with Utilities Kingston is set to begin in November 2018 and the pilot is expected to last for up to three months.
END
Editor's notes
About Rezatec
Rezatec applies data science to satellite imagery and geospatial data to deliver sophisticated, cloud-based analytics to customers owning and operating high value, distributed land-based assets. Rezatec data services enable improved margins, enhanced competitive advantage and optimised asset management for its customers. Rezatec customers cover the globe and are leaders in their respective industries in the water, agriculture, infrastructure and forestry sectors. For more information about Rezatec visit www.rezatec.com
About Utilities Kingston
Utilities Kingston operates multiple utilities through a single service structure, allowing it to deliver cost savings and customer service excellence. The company is unique in Ontario, combining water, wastewater, gas and electrical services, and broadband fibre optics in one company. Trusted by customers to deliver safe and reliable utilities for more than 150 years, employees are proud to provide personal, responsive services.
For editorial enquiries contact:
Rezatec Limited:
Simon Haskell, Marketing Manager
Tel: 01865 817537, Email: simon.haskell@rezatec.com
Utilities Kingston:
For more information, contact 613-546-4291, ext. 2300.